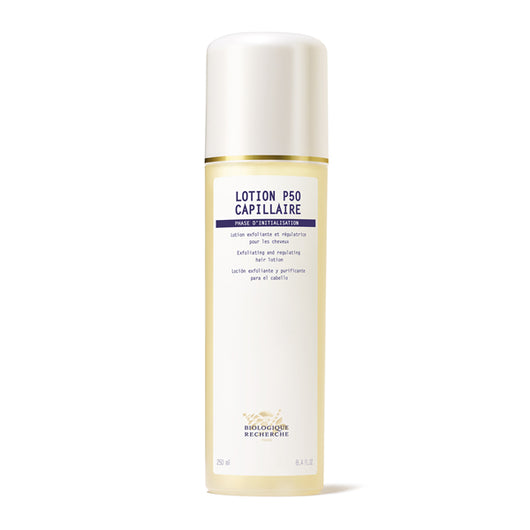 Lotion P50 Capillaire
*For pricing and purchasing options users must create an account: https://www.reinispa.com/account/login

8.4 oz. 
Result: Purifies the scalp and balances its pH, preparing it for the next Biologique Recherche hair care treatment.
Actions:
-Removes scales and gently exfoliates the scalp.
-Regulates excess sebum to rebalance the scalp.
-Balances the surface pH of the scalp.
-Gently cleanses and purifies the scalp.
Product Description: 
Lotion P50 Capillaire restores the hair's strength and vitality with treatment starting at the root.  This multi-purpose lotion, gently purifies the scalp and regulates sebum secretion (Poly-Alpha-Beta-Hydroxy-Acid complex, balancing and astringent agents). It also boosts hair fiber resistance (moisturizing agents). It is recommended for all hair types and is ideal for seborrheic scalps.
Direction for use: Apply a few drops of Lotion P50 Capillaire uniformly over the scalp. Massage gently with your fingertips and leave for 5 to 10 minutes. The scalp is now ready for the next treatment.