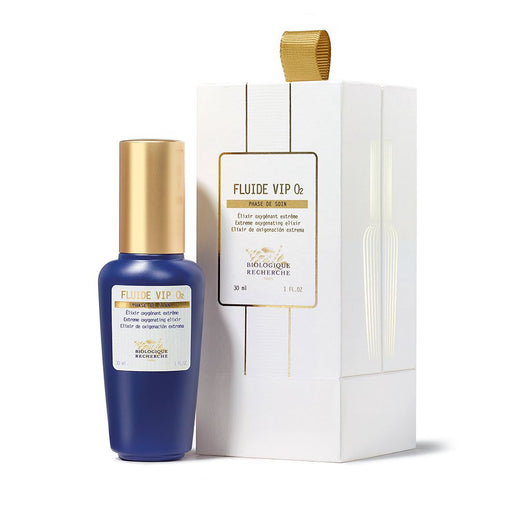 Fluide VIP O2
*For pricing and purchasing options users must create an account: https://www.reinispa.com/account/login

0.3 oz., 1.0 oz.
Result: Reduces signs of fatigue, brightens the complexion and leaves the skin smoother and visibly more beautiful. 
Actions:
-Forms an anti-pollution shield on the surface of the skin.
-Protects the skin against intracellular oxidative stress.
-Reduces the signs of fatigue.
-Clarifies and brightens the complexion.
Product description: 
The precious and unique formula contained in this serum traps oxygen at the surface of the skin, creating an environment that stimulates the epidermis' natural functions.  This "anti-pollution", oxygenating, moisturizing serum protects the skin throughout the day from urban aggressions. Its unique formulation uses revitalizing agents, Silk extracts and a Specific Biologique Recherche Oxygenating Complex that really restore healthy skin. It is recommended for all skin types.
Direction for use: Apply a few drops of Fluide VIP O2 to the eye area, and all over the face, neck and cleavage in the morning and/or in the evening. This product is one of the final touches in the Biologique Recherche beauty treatment program.