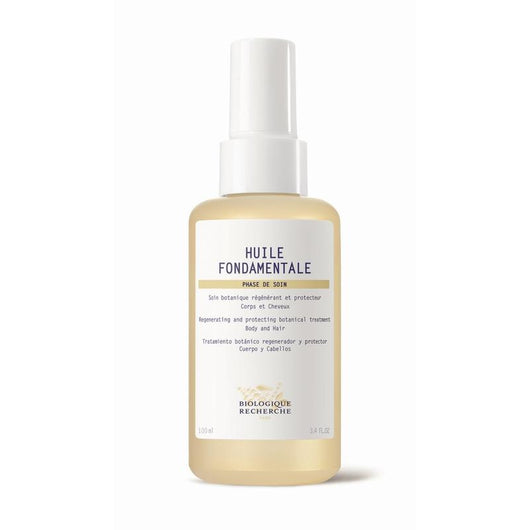 Huile Fondamentale
*For pricing and purchasing options users must create an account: https://www.reinispa.com/account/login

3.4 oz.
Result: Regenerating and protecting botanical treatment for body and hair. 
Actions:
-Deeply moisturizes and nourishes. 
-Restores the skin and hair barrier. 
-Reduces skin and hair dryness. 
-Restores skin and hair quality. 
-Repairs and strengthens dry, damaged hair. 
Product Description:
Huile Fondamentale combines 6 pure botanical oils known for their antioxidant, moisturizing and regenerative properties. With multiple uses, its high concentration in essential fatty acids (omega 3, 6, 7 and 9) makes it the ultimate care product to preserve the balance of cutaneous lipids, restore skin quality and strengthen dry and brittle hair.
Direction for use:
On the body, apply by massaging in circular movements until complete penetration of the product.

On the hair, generously apply lengths to the ends by sliding the strands between the fingers. Leave on for 20 minutes or overnight and emulsify with warm water. Then proceed to the shampoo.